ONdrugDelivery Media Pack & Rate Card 2020
ONdrugDelivery Magazine is trusted globally as the only drug delivery magazine to focus tightly on one topic within the field of drug delivery with each issue.
Now in our 15th year serving the worldwide healthcare sector as its trusted provider of topic-specific, b2b information and insights covering the global drug delivery industry, ONdrugDelivery has consolidated its position as a leading go-to publication. Today, ONdrugDelivery is a must for pharma / biotech industry professionals who need to know what's going on in drug delivery. We know drug delivery.
Additional Resources for Advertisers and Sponsors
Click Subscribe to check out the ONdrugDelivery reader experience for yourself – you'll receive an email alert when each new issue is published and gain full access to all of the website's fantastic content and functionality that our registered readers enjoy.
Click Editorial Calendar to view a summary of forthcoming Issue Topics and Deadlines (Full Editorial Calendar with each issue's Bonus Print Conference Distribution in the Media Pack)
Click Contribute to access a brief overview of the ways your organisation can gain a presence in ONdrugDelivery (Full details and guide prices inside the Media Pack)
 Subscribe      Editorial Calendar     Contribute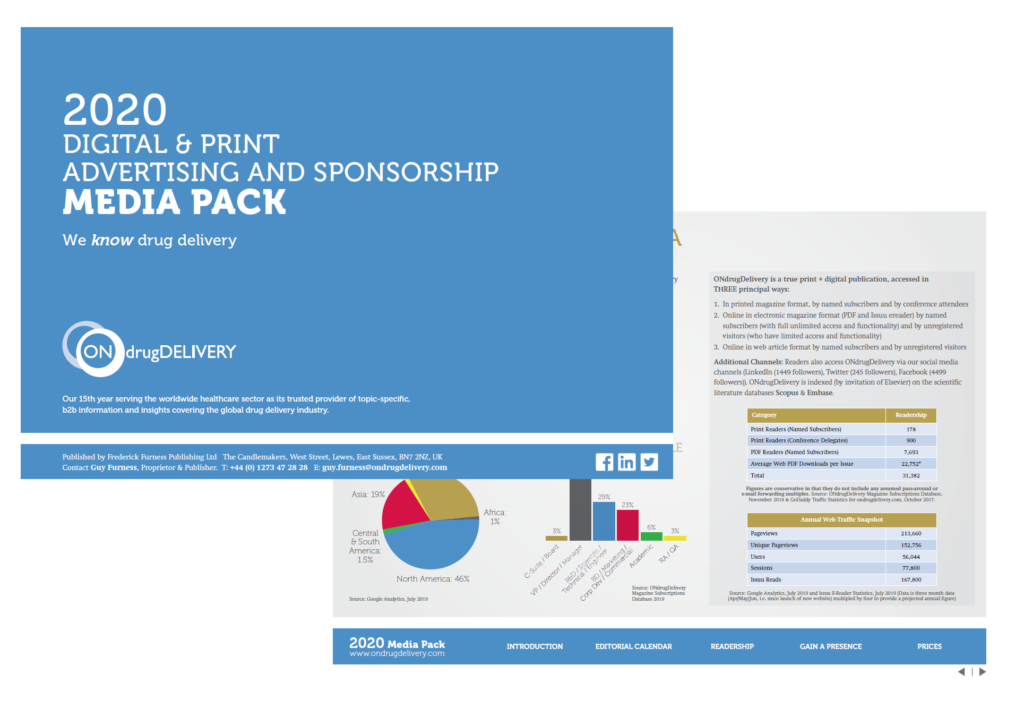 If you'd rather not use the form, you can email ONdrugDelivery Magazine's publisher, Guy Furness ([email protected]), including details (for example, which issue topics are of interest to you), and he will send you the Media Pack PDF by reply.
You can also telephone Guy Furness directly on +44 (0)1273 47 28 28.
Frederick Furness Publishing will never sell or pass your email address to third parties. Full details can be found in our privacy policy.
See what ondrugdelivery's readers and contributors think